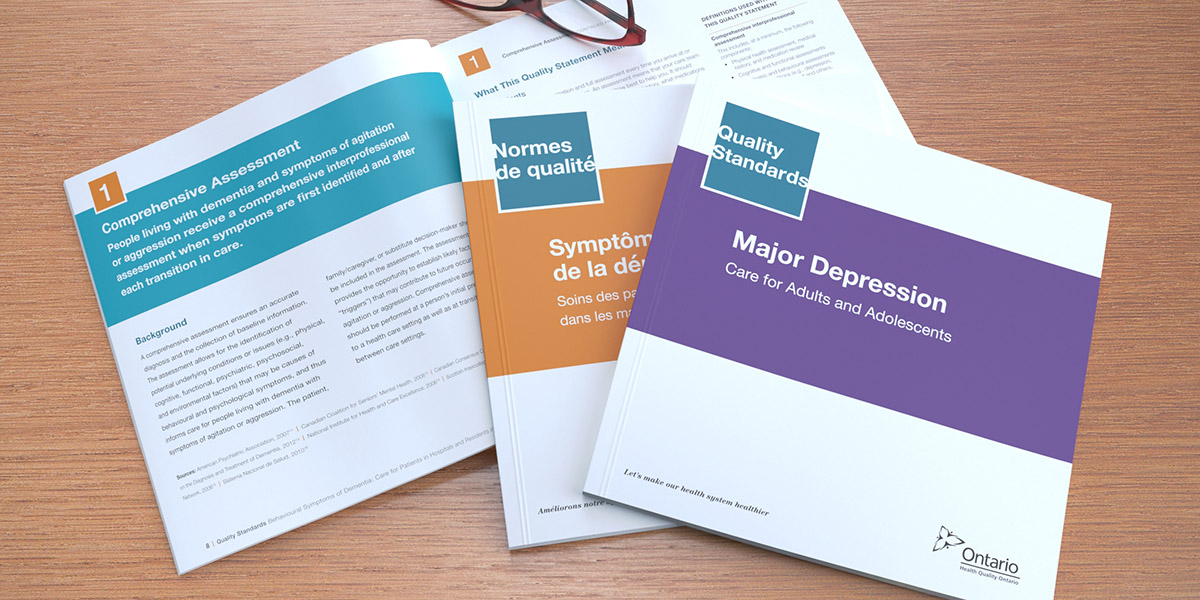 DEVELOPING A VISUAL LANGUAGE FOR AN EXPANSIVE PROGRAM
HEALTH QUALITY ONTARIO (HQO)
COMPETENCIES:  INSIGHT GATHERING  |  PROJECT SCOPING  |  BRANDING  |  LOGO AND LOGOTYPE DESIGN  |  PRINT AND DIGITAL DESIGN  |  USER EXPERIENCE  | PROJECT MANAGEMENT  |  PRODUCTION SUPERVISION  |  AODA COMPLIANCE
HQO is the provincial advisor on the quality of health care. To outline what patients can expect and help healthcare providers know what is expected of them, an expansive program of Quality Standards reference guides was developed.
Colourphill designed the visual language for the program and systems-based templates for patient guides, provider guides and implementation kit guides for healthcare providers. Our approach was a simple, elegant and adaptable format, demonstrated by producing all three documents for the first three of 120+ Quality Standards in English and French. The finished guides were provided as AODA-compliant* print copies and accessible, web-friendly PDFs.
* Compliant with requirements of the Accessibility for Ontarians with Disabilities Act (AODA), meeting provincial accessibility standards for print and web (WCAG 2.0, Level AA).